Who doesn't love wearing matching T-shirts with their loved ones? But have you ever thought of wearing matching T-shirts for a Disney Vacation? Because every time you go to Disneyland, you must have seen parents and kids wearing some cute and matching Disney family shirts.
Not only that but wearing a matching Disney T-shirt makes our day a lot more fun and enjoyable. And it is quite useful as there are some benefits of wearing matching T-shirts such as it is easier to stay together and not have your kids lost, they look great in pictures, the shirts are automatically a souvenir that you can use again and again and remember the good time and fun you had on your trip.
Here I will be listing the cutest and matching Disney family shirts. There are so many fantastic ones available, so that's why we have bought you the best of all cute and matching Disney family shirts so you can select your favorite.
Sparkle Disney Family Shirts
Most people love wearing sparkly clothes with some shine to look more fashionable and trendy. Therefore these Sparkle Disney family shirts may be ones for you. This set of shirts is designed in a black and golden silhouette with some favorite Disney characters, including Marry Poppins, Tinker Bell, Bambi, and Mickey mouse. These shirts are one of the only personalized Disney T-Shirts mentioned in this list. And one more interesting thing you can do is you can also write your family members' names underneath the characters.
Micky and Minnie Mouse T-shirts
The next Disney Family matching T-shirts include both parent's and kids' designs. The boys' have a pair of Mickey's ears, while the girl's shirt is decorated with Minnies' beautiful and iconic polka-dotted hair bow. These shirts come in a wide variety of colors. You can choose any bright color for your kids and some dark colors for the parents. Usually, we have seen more parents with kids in Disneyland, so this option goes for them.
The Classic Family Disney T-shirts
The next Disney family shirts include the-classic-family Disney T-shirts. These shirts have beautifully designed castles and Minnie's ears with a red bow also.
The designed castles are the ones made in Disneyland as the main entrance. You can take awesome pictures in these Disney family shirts.
The Social Distancing Disney Family T-shirt
As we all know that 2020 is a very hard year for all of us. But then Disney has kept in mind and made T-shirts which say "Social Distancing 2020" so people will remember to keep a distance from each other while enjoying their time in Disneyland and being safe from germs. The T-shirt is designed with Mickey's face and ears saying 2020
Seven Dwarfs Shirts
Everyone knows how cute the Disneys Seven Dwarfs were. And we all love these little characters, which are why these Disney Family matching t-shirts were created. Here you can see the dwarfs, including Grumpy, Sleepy, Happy, Doc. You can also match the T-shirts on each family member's character.
Disney Christmas Family T-shirts
We all know Christmas is a very exciting and fun eve, and most of all, it is in winter that we all love because winters are exceptionally cozy and cold. We all love wearing binnies and hoodies. But going to Disneyland in winters while it's Christmas, the fun is going to double up when you wear Disney Christmas T-shirts. Here we have these shirts, which are beautifully designed with Reindeers ears and mickeys face colored in red and black.
Disney Helloween Family T-shirts
These Halloween Disney family shirts are really amazing. They are very comfortable to wear just as you like. They are really soft and won't give you irritation. These Disney Halloween Family T-shirts are black and orange in color, which gives you that creepy Halloween looks. This shirt is designed with evil eyes in Mickey's face and skeleton teeth.
Disney Easter Family T-shirts
There are many varieties of Disney Easter family t-shirts. We all love enjoying easter in different ways. One of them is that you can go to Disneyland to enjoy your day with your family by wearing these cute Disney easter t-shirts. These t-shirts have a very cute design with the easter egg cracking and mickey and Minnie popping out of them. These t-shirts are both for parents and kids.
Disney Couples T-shirt
This Disney couple t-shirt is one of the cutest and matching shirts. You must have seen couples going around with matching clothes. This is why these Disney couple t-shirts are created. This Disney Couple t-shirt is designed in black color with white wording on it. The male t-shirt has Mikey's pants on it saying "Hubby," and the female t-shirt has minnies dotted bow on it, saying "Wifey," which makes the t-shirts really cute and matching for a lovely couple.
Disney Bestfriend T-shirts
Everyone has best friends, and we love them too. But if you want to make your day for fun and enjoyable with your best friend, these cute and matching t-shirts are for you. These T-shirts are black and golden in color, with one of them saying "Best" and one of them saying "Friends."
The Toy Story Matching Family Disney T-shirts
If you and your family are fans of the Disney Toy Story, these shirts are the perfect match for your whole family. There are 13 characters to choose from in either matte or glitter finish. You can match the characters with your family members, and for male family members, you can use the matte finish t-shirt, and for the female member, you can use the glitter finish for an elegant and shiny look.
The Beauty And The Beast Disney T-shirts
We all loved the beauty and the beast characters, especially the beast. These Beauty And The Beast t-shirts are for couples. These shirts are white in color, and the characters are also present on the t-shirts for both males and females. And this Beauty And The Beast Disney T-shirts are amazing for you to wear when you are on a trip to Disneyland.
Birthday Disney T-shirt
When you have your birthday coming up and you plan to have a trip to Disney World with your family, this shirt a perfect match for your tower, which is quite cute and comfortable to wear. This shirt is an amazing choice for you. It's grey in color and on top there's the text: "It's My Birthday" with some Disney characters on it.
Customizing your Disney T-shirt
You can now customize your Disney T-shirt, but there are many steps before doing it. The first thing you need to do is define your budget at the quantity you want. Secondly, you have a choice of printing options. The first choice is screen printing, Vinyl graphics, and direct-to-garment. The next step is to brainstorm your design concepts, such as the T-shirt type, style, and imagery, color, and Disney characters. Keeping in mind that T-shirt designs have two sets of colors, one is the fabric color, and the other is print color, make sure that these two complement each other. Customizing your own Disney t-shirt might get a little expensive, but if you want a unique style and your way Disney t-shirt then money shouldn't matter.
There are many special printing techniques because t-shirts have their own set of unique ink options. Plastisol is the standard ink for screen printing. Foil gives a shiny and reflective printing design on your t-shirt. Novelty is for glitter hologram or to give a fuzzy feel. For a more dimensional appearance that pops out from the shirt you can use the High-density ink option.
The next thing you have to do is find a designer who you can hire to design your customized Disney T-shirt and once you find one, then tell the designer about what type of design you want and which Disney character you want to have on your t-shirt, including the color, logo, t-shirt type- and printing specifications. Give them everything they need to know about your Disney T-shirt so you can get the perfect Disney t-shirt as you like.
Best Places to order your Disney shirts
If you don't want to get in a fuzz of customizing your own Disney t-shirt. You can simply go ahead and order your Disney shirts on these sites, including Amazon, Uniqlo, Redbubble, Walmart, Etsy.
You can order any type of Disney t-shirt here from male to female, and from youngsters to kids, you can easily get all types. Besides that, you can also get the Disney-shirts according to the festive season that is near.
Best Disney T-shirt Ideas
There are many Disney t-shirt ideas, but finding the best one and unique ones are a bit difficult, so here I will mention some of the unique and best Disney t-shirt ideas.
This Park is Too Crowded
This is a fun and best-designed t-shirt and ties in Marvel with the Disney park. This is the best design for the Marvel fans out there. The image of the infinity gauntlet holding Mickey ice cream is really cute and funny too.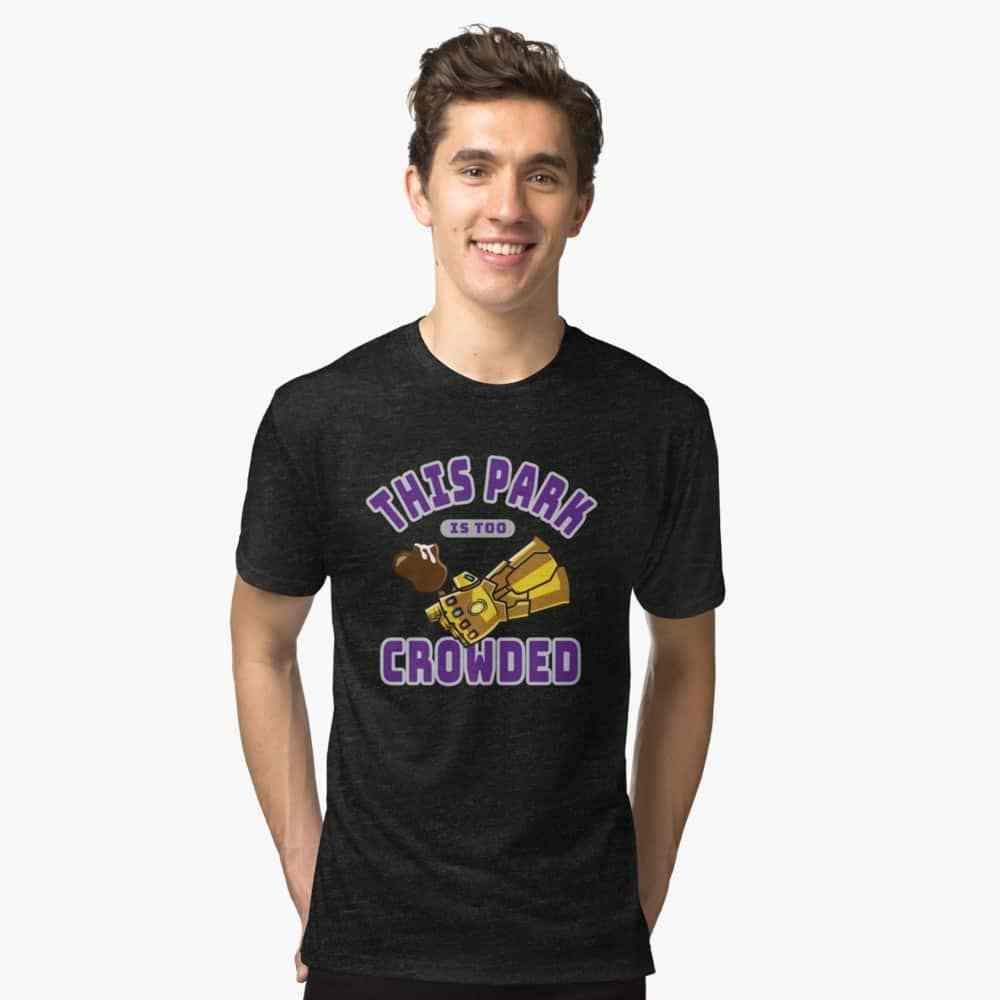 Hello Vacation
There is no better way to start your Disney Vacation than by wearing this fun hello vacation design with all four Disney World Parks designed in the t-shirt with different colors and simply designed vacation t-shirt.
Blessed
A beautifully designed Disney t-shirt with the castle image and a great sentiment which anyone who goes to visit Disney world will understand. This shirt is unisex. Both males and females can wear this shirt. This shirt is dark blue in color with a pink castle on it and written "Blessed."
Magic Ears
A very unique and great design shirt with Mickey and Minnie ears that you can wear whenever you want at Disney World or even wear it casually. For the lovers of Mickey and Minnie, they can get this shirt and flaunt it as they like.
Disney Family Vacation Matching T-shirts
Here we have Disney Family Vacation matching T-shirts, which there are many colors available for the whole family from parents to kids and siblings. All of them are available. This shirt is really comfortable and easy to wear with Minnies' head bow and the text "2020 Family Vacation." This way, your kids won't get lost, and all of the family members can stay united.
Conclusion
So these were some of the best cute and matching Disney family shirts. All of the Disney shirts that we mentioned above are among the best and cutest Disney family shirts. If you want to wear matching Disney shirts with your family, you can find those as well in the above article. You can buy some amazing Disney family shirts online or from Disneyland. All these shirts are quite adorable and have your favorite cartoon's image on them.