Slip into your sun-kissed dream as we whisk you away on a journey to Italy's beguiling island, Capri. Picture yourself basking on a luxury lounger, the rhythmic sound of waves whispering secrets of the deep blue Tyrrhenian Sea to your ears, and the radiant Italian sun painting your skin with the finest stroke of gold. Tempted? Buckle up, fellow adventurer! Because we're about to embark on a tour of the best beach clubs in Capri.
Our aim? To navigate through the coastal charm of Capri, a haven known for its sheer cliffs, rich history, and, of course, its outstanding beach clubs that are glamorous playgrounds for sun-seekers. From hidden corners of tranquility to the most vibrant scenes on the island, we're going to dive into the unique characteristics of each club.
Our journey will take us through the pristine waters and idyllic scenes of Capri's popular beachfront retreats. We'll wander through their picturesque settings, sip on their signature cocktails, and dive into their shimmering waters. As we explore, we'll break down our findings into easily digestible snippets. Think of it as your sun-lounger read, compelling yet straightforward, giving insights without overloading you with information.
In our endeavor, we won't shy away from mentioning the specifics—be it the retro simplicity of Marina Piccola or the upscale exclusivity of Uno Capri. You'll find practical tips and first-hand recommendations, because we believe that the secret sauce of a perfect beach vacation lies in the details.
Why Capri, you might wonder? Well, Capri isn't just another beach destination. It's a nostalgic poem that speaks of invigorating sea breezes, it's a love song dedicated to the eternal romance between the sun and the sea, and above all, it's a melody that underlines the rhythm of la dolce vita—or the sweet life—in every wave that kisses its shores.
So, come on, let's uncover the pearls of the Tyrrhenian Sea, and bask in the glory of the best beach clubs in Capri. Together, we will unearth the true spirit of this luminous island, one beach club at a time.
The Charm of Capri
Imagine basking in the sunshine, the Mediterranean sea stretching out before you, colored with vibrant hues of turquoise and cobalt blue. This picturesque scene is what Capri, a beautiful island nestled in Italy's Bay of Naples, offers. Known worldwide as a luxury destination, Capri entices with its scenic landscapes, intricate history, and Mediterranean charm. Yet, among these marvels, the unequivocal jewels in its crown are the best beach clubs in Capri.
Sitting elegantly along its sun-drenched coastline, the beach clubs of Capri are renowned sanctuaries of relaxation. They effortlessly capture the essence of this Mediterranean paradise; a blend of Italian elegance, coastal beauty, and a leisurely lifestyle.
Here are a few reasons why these beach clubs are the beating heart of Capri:
Lux by the Sea: Capri's beach clubs offer a luxurious escape. Think spacious sun decks with loungers overlooking the azure sea, delectable food and drinks, and a relaxed ambience that allows you to soak up the sun in style.
Dip and Dine: Many beach clubs in Capri offer the enticing combination of swimming and dining. With direct access to the sea, you can take a refreshing dip and then enjoy authentic Italian cuisine.
Alluring Views: Capri's hilly terrain gives its beach clubs an edge in terms of views. Many clubs offer panoramic vistas of the sea, enhancing your beachside relaxation with mesmerizing scenery.
Personalised Services: The beach clubs in Capri believe in making your visit as comfortable as possible. From providing towels and beach umbrellas to serving your favourite cocktail just the way you like it, these clubs redefine hospitality.
Live the Caprian Lifestyle: To truly experience Capri, one must indulge in its beach club culture. It's a part of the Caprian lifestyle – a day of sun-soaked relaxation, punctuated by refreshing swims and delicious meals, all whilst surrounded by serene beauty.
Things to Consider When Choosing a Beach Club
Capri's coast is dotted with numerous beach clubs, each with its unique charm and draw. However, finding the one that's right for your vacation can be a bit of a puzzle. To help you match your desires with the best beach clubs in Capri, consider the following factors when choosing your seaside retreat:
Location: The beach clubs in Capri are strewn all over the island, each location promising a unique view and experience. Some are nestled in secret coves offering serenity, while others sit on busy beaches luring with their vibrant atmosphere. Choose based on the kind of scenery and vibe you prefer.
Amenities: Beach clubs in Capri offer a range of facilities. Some are simple, with basic loungers and parasols, while others provide upscale facilities such as sea view decks, private cabanas, and gourmet dining options. Decide based on your craving for comfort and convenience.
Price Range: Beach clubs in Capri cover a wide price range. Some are affordable yet delightful, while others are steeply-priced, offering an exclusive luxury experience. Your pick should suit your budget without compromising on the experience you want.
Exclusivity: If your idea of a beach day involves rubbing shoulders with the rich and famous, go for the high-profile beach clubs. If tranquillity is what you seek, choose a low-key, less crowded spot. The best beach club for you depends on your preferred balance of buzz and privacy.
Vibe: Just as important as the physical aspects of a beach club is its ambiance. Some beach clubs have a relaxed, casual vibe, while others model a more upscale, swanky ambiance. Your choice should vibe with your personality and mood.
Remember, the secret to a memorable Capri vacation lies in synchronizing your preferences with your holiday objectives. Whether you dream of glamorous, sun-soaked lounging or a chilled-out day swimming and sunbathing, we're certain you'll find the beach club that's perfect for you within the sparkling gem that is Capri.
The Best Beach Clubs in Capri
Pack your sandals, don't forget your sunglasses, and let's dive together into the azure waves of the Mediterranean as we explore the best beach clubs in Capri, a gem in the crown of Italy's iconic Amalfi Coast.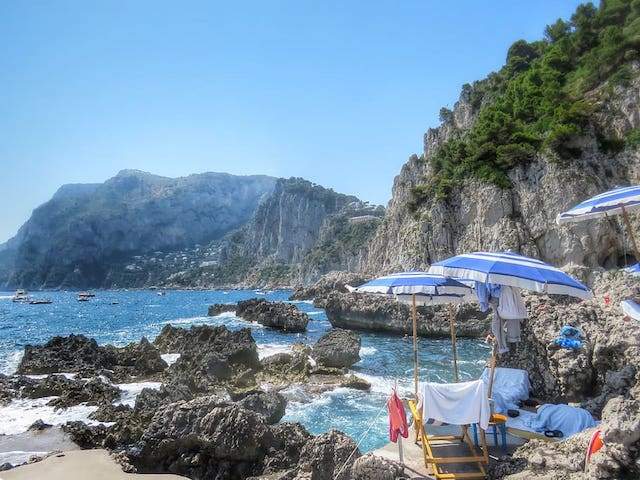 1. La Fontelina Beach Club
Situated near the famous Faraglioni Rocks, nothing can quite match the allure of La Fontelina Beach Club.
Location and Accessibility
Accessible via a scenic 15 minutes' boat ride from Marina Grande, this club represents a secluded paradise that seems to have blossomed right out of the craggy coastal rocks.
Features and Amenities
Here you'll find comfortable sun loungers, a well-stocked bar, and a tantalizing restaurant serving freshly caught seafood.
Unique Aspects
Sip a cool Bellini while soaking up the sun, surrounded by the captivating views of the Faraglioni Rocks – it's a sight that will engrave itself onto your memory.
Potential Drawbacks
Being a popular spot, it can get crowded in peak season. Reservations are highly advised.
Pricing Guide
Prices can be on the higher end due to its exclusivity – expect to pay upwards of 30 Euros for a sun lounger.
2. Bagni Internazionali Beach Club
Emanating charisma that draws in both the bustle-loving travelers and quiet peace-seekers, meet Bagni Internazionali.
Location and Accessibility
Conveniently located in Marina Grande, the club is just a short walk away from the main town, making it an easily accessible destination.
Features and Amenities
The beach club features spacious sunbathing platforms, a seaside pool, and a lively bar-cafe servicing all your gastronomic needs.
Unique Aspects
With a more relaxed atmosphere, it's a place that lets you enjoy all the fun of the beach without having to travel far.
Potential Drawbacks
Due to the location, it can attract more tourists, so it might not be your perfect beach club if you're seeking complete tranquility.
Pricing Guide
Prices are moderate, with sun loungers starting at around 20 Euros.
Whether your choice is the seclusion offered by La Fontelina or the liveliness of Bagni Internazionali, Capri's beach clubs each hold their unique charm. So, are you ready to experience the warmth of the Mediterranean sun and engage in an enthralling coastal escapade?
Insider Tips for Making the Most of Capri's Beach Clubs
A trip to Capri isn't complete without visiting its enchanting beach clubs. To enhance your sun-soaked experience, here are some insider tips:
Make Reservations
The best beach clubs in Capri are well-known and attract tourists from all walks of life. It's wise to book your spot in advance, especially during the summer. The clubs can fill up quickly, and you wouldn't want to miss out!
Choose Your Time Wisely
Early mornings are sublime, with lesser crowds. This is the time to relish a serene swim. Alternatively, afternoons present a lively atmosphere with people basking in the sun and savoring authentic Italian cuisine.
Understand Etiquette and Customs
Caprians are a friendly bunch known for their warm hospitality. They appreciate politeness, so a smile and a 'grazie' go a long way.
Savour the Typical Offerings
From fresh seafood to crispy pizzas, beach club menus are a gastronomic delight. Wash down your meal with a chilled glass of limoncello or Prosecco for the quintessential Capri experience.
Selecting the Best Spots
Beach clubs in Capri have some of the best spots for swimming, sunbathing and people-watching. For the best sunbathing opportunities, choose loungers facing the sea. For swimmers, clubs with direct sea access can't be beaten. And if you love people-watching, choose a spot closer to the bar or restaurant.
Exploring Beyond the Beach Clubs in Capri
Capri's sun-drenched beach clubs are unequivocally sublime. They're the perfect spots to let time slip away as you bask in the Mediterranean sun. But remember, fellow traveler, the magic of Capris extends well beyond its beach clubs. This island paradise offers a treasure trove of natural and cultural attractions that promise to leave you entranced.
Once you've had your fill of sun and sand, let the sea breeze guide you to Capri's other wonders:
Hiking Trails: Rejunvenate your spirit on the picturesque trails crisscrossing the island. The scenic pathways leading to Monte Solaro, Capri's highest point, or the leisurely walk to Arco Naturale, a spectacular natural arch, boast breathtaking views and bring you closer to Capri's natural beauty.
Historic Sites: Step into history at Villa Jovis, one of the twelve villas built by the Emperor Tiberius, poised at the edge of a cliff. Don't miss the infamous leap of Tiberius, a cliff from where legend says the emperor used to toss his victims into the sea.
Blue Grotto: No visit to Capri is complete without experiencing the spellbinding Blue Grotto (Grotto Azzurra). This sea cave, illuminated by an otherworldly blue light, creates an ethereal atmosphere that leaves you with a sense of awe.
Capri Town: Mingle with the locals in Capri Town's fascinating Piazza Umberto, savoring a gelato or simply people-watching. Explore the narrow lanes lined with stylish boutiques, quaint cafes, and blooming bougainvillea.
Capri's charm is sustained by a beautiful blend of its stunning beaches, delightful villas, terraced vineyards, and rustic piazzas. As you pause here and there, soaking up the gorgeous vistas, you realize this island is not only about being a spectator, it's about swirling in the dance of its contrasts. So come, wander away from the shoreline, and find the Capri that tugs at your heart, beckons your spirit, and ignites your imagination. After all, isn't that what travel is all about?
Conclusion:
Bid farewell to your travel apprehension, let's take a last glimpse of our journey exploring the best beach clubs in Capri.
A Snapshot of Paradise
Relive the memory of La Fontelina, a beach club that stands beautifully nestled near the Faraglioni Rocks, offering a serene escape. Here, the luxury of a well-stocked bar and fresh seafood enriches the allure of a sun-kissed leisurely day.
On the more vibrant side, you may recall the charisma of Bagni Internazionali. Located in the heart of Marina Grande, we admired its blend of lively and peaceful atmosphere complemented by an appealing bar-cafe, setting quite a stage for both sun worshippers and social butterflies.
Taste of Italy
How can one forget the mouth-watering traditional cuisine at these beach clubs? Crispy pizzas and fresh seafood, all savored with a spectacular view – it's certainly an unforgettable feast for the senses.
From End to End
Whether it was sunbathing on loungers by the sea, diving into the clear waters, or simply people-watching while sipping an icy glass of Prosecco, these beach clubs served as ideal platforms to immerse oneself in the authentic Italian beach culture.
The Final Verdict
It's not an exaggeration to say that Capri's beach clubs are a true epitome of a Mediterranean paradise – they provide the perfect blend of natural beauty, warm hospitality, delectable cuisine, and amazing atmosphere. As you reflect on this beach club adventure, remember, Capri invites you, welcomes you, and above anything, creates a yearning within you to return and relive its enchanting melodrama of sun, sea, and simplicity.
As we step off of Capri's sun-baked shores, let's bid "Arrivederci!" not as a goodbye, but a charming Italian promise of seeing this magical island yet again.