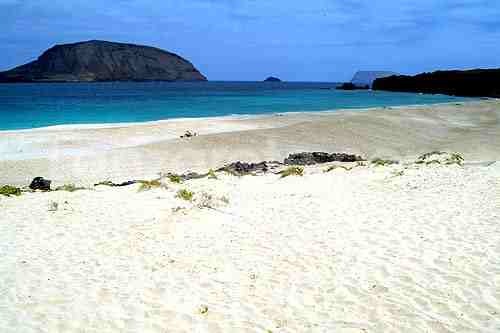 It isn't always easy choosing a vacation destination. Especially when you are an avid traveller. There are often so many places on our travel to-do lists that it can seem impossible to cross them all off. Sound familiar? Then you might need a little help narrowing down the search. Especially if you have caught the travel bug! Don't worry. Decision-making just got a whole lot easier. Are you looking for sunshine, unforgettable experiences, and the trip of a lifetime? Then it might be worthwhile to spend a little time in the utterly breathtaking Lanzarote. Here are a few reasons to visit this destination on your next getaway…
Let's start by getting to know the island a little bit better. A picturesque island that is part of the luxurious (and always beautiful) Canary Islands. They can be found in the Atlantic Ocean, a mere 125 km off of the African coast. This particular island is quickly become a travel favourite. Not only is it warm and sunny but it also boasts plenty of undeniable natural beauty. Which brings us to the very first reason to visit the island on your next vacation: the views!
If there is one thing that can take your holiday from ordinary to extraordinary, it has to be the backdrop. There is something special about enjoying a beautiful setting in a new place. One look at a mountainside, waves lapping the shore, or lush greenery can make you stop and appreciate the beauty that life has to offer. Say goodbye to stress and worries. A gorgeous view is all you need. That includes the crystal blue water and pristine white sand. In addition, there are also volcanic landscapes to see up close and personal. You can head over to the Timafaya National Park. There you can learn more about the history of the area – and take in the landscape while you are at it.
Another reason to choose this island for your next trip? Attractions, attractions, and more attractions. There will be no shortage of things to see, do, and experience during your time here. In addition to those stunning views, you can also head to a resort for a little pampering and relaxation. Or you can go shopping or enjoy local cuisine in the capital city, Arrecife. Feeling extra adventurous? A great day trip is a jaunt to the island of La Graciosa. It is nearby and will give you plenty of places to explore.
Luxury should never be overlooked. Especially when it comes to your vacation. That is precisely why so many travellers love to spend time in Lanzarote. It has a reputation for having the best of the best. That includes first-class accommodations, lavish spa treatments, delicious meals, stunning weather, a number of beautiful beaches, and more. What does that mean? You don't just have to sit back and enjoy the view. You can do it in serious style!
Are you struggling to choose a memorable destination for your next big getaway? Stop agonizing, wondering, and debating. The answer is simple: Lanzarote! With sunshine, beaches, history, and luxury in one jaw-dropping place…you can't go wrong.