Florida is known for its clear waters, making it a popular vacation destination for beachgoers, snorkelers and divers. From swimming to sunbathing to playing in the ocean, Florida beaches offer a wide range of activities—and they're great for families! Whether you're looking for relaxation or adventure (or both!), Florida's clear waters will impress you.
1. Destin
Florida's Destin is well-known for having some of the clearest water in the area. It doesn't hurt that its bright white sand and stunning turquoise waters make it a hugely popular destination for beachgoers. But why does Destin have such crystal clear water? Its location on Florida's Emerald Coast gives it access to the largest living system of coral barriers in the world, which protect its water from sediment and contaminants.
Destin, Florida is popularly known for its dazzling blue-green waters and beautiful white sand beaches. This unique combination is made possible by the nearby Choctawhatchee Bay, which filters sediments from entering the ocean and succeeds in keeping the waters crystal clear. The sands of Destin are composed of fine quartz, creating a picturesque sunset view unlike any other place on Earth.
If you want to experience crystal-clear water and spectacular white-sand beaches, then Florida's panhandle city of Destin is the perfect place for your next family vacation! Enjoy plenty of fun activities, from swimming in the pristine waters or exploring the numerous beachfront parks, to reveling in the vibrant nightlife scene. Plus, with plenty of comfortable resorts in the area, you won't have to worry about finding somewhere to stay!
2. Rosemary Beach
Florida's Rosemary Beach offers travelers a luxurious escape from everyday life. From its dazzling white sand to its crystal clear waters, this beach is the perfect spot to enjoy some rest and relaxation with your family and friends.
3. Santa Rosa
Santa Rosa Beach in Florida is known for its stunningly clear, blue-green waters and white sand beaches. On sunny days, the waters in this area of the bay are exceptionally clear, perfect for wading or swimming. Vacationers flocking here appreciate its calm waves, lack of crowds compared to nearby Destin, and crystal clear water!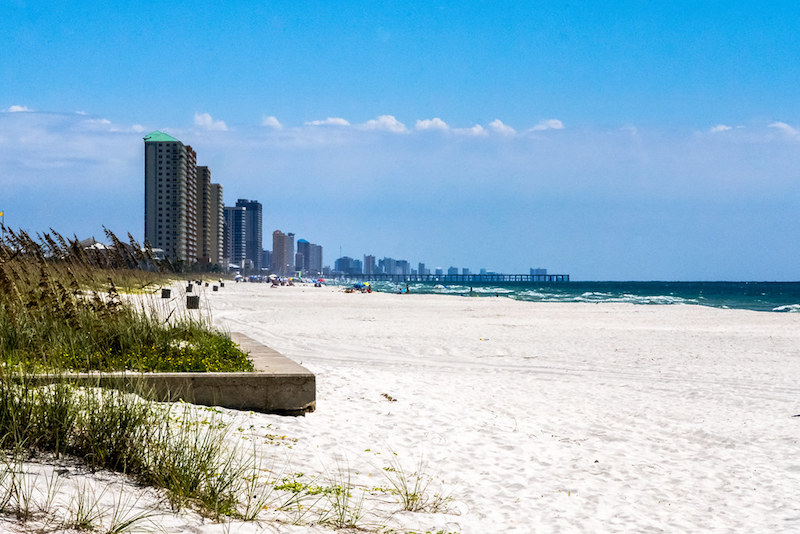 4. Panama City Beach
If you're looking for crystal clear water in Florida, look no further than the Choctawhatchee Bay along the northern Gulf coast. Located near Panama City, this unspoiled natural space is well known for its stunningly clear aqua-blue waters which offer a perfect backdrop for swimming and snorkeling. Despite being relatively close to Panama City Beach, this area in Northwest Florida is less frequented making it an ideal opportunity to enjoy some time away from crowds and noise.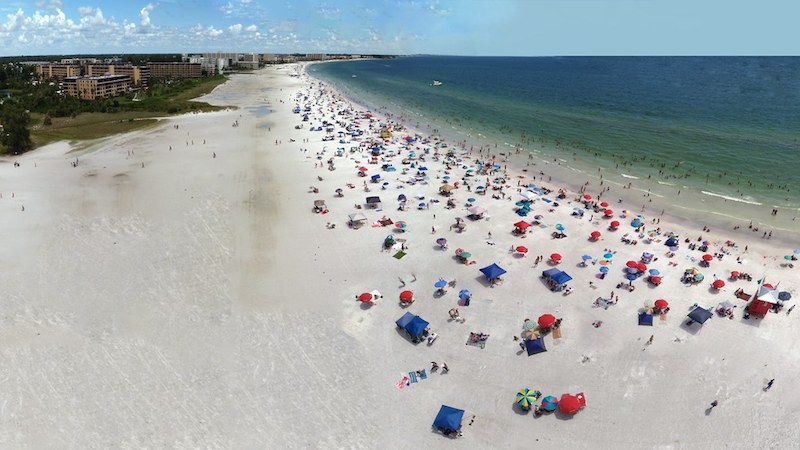 5. Siesta Key
If you're looking for crystal clear waters, Florida's Siesta Key should be at the top of your list. This stunning beach destination is known for its sparklingly clear waters and signature powdery sand. It's a favorite spot for younger visitors who want to mingle and soak up some sun. Thanks to an adjacent filtering bay that helps keep the water clean, Siesta Key offers some of the clearest water in Florida!
If you're looking for a breathtaking beach getaway, look no further than Sanibel Island, Florida. This small island is renowned for its stunning crystal clear water and white sand beaches, making it the perfect setting for your next vacation. Whether it's snorkeling in the warm ocean waters or just soaking up the sun on the sand, Sanibel Island offers plenty of opportunities to relax and enjoy some time in paradise.
6. Anna Maria Island
Anna Maria Island located in the beautiful Sarasota of Florida is a great place to spend your next vacation. Not only is the community family-friendly and fun, the water around the island is also exceptionally clear due to a filtering bay located behind it making it even more picturesque and enjoyable.
Clear waters in Florida make it especially enjoyable and accessible for all types of visitors – from novice snorkelers to experienced divers. The clarity of the water allows visibility up to 100 feet, making it easier to spot colorful coral, sea life and even the ocean floor!
7. Boca Grande
Boca Grande, located off the coast of Florida, is renowned for its pristine beaches and picturesque views. Covered with soft white sand and turquoise waters that seem almost surreal, this isolated island offers a tranquil atmosphere for visitors to relax and unwind in. With its calm environment, crystal-clear waters, lush vegetation, and family-friendly feel, Boca Grande is one of the most stunning beaches in Florida.
The Florida Keys are known for their stunningly clear waters that draw thousands of visitors every year, enticed by its beautiful blue and green hues. Swimming, snorkeling, or simply basking in the warm turquoise waters, you can be sure that in the Florida Keys you'll have a warm welcome!
8. Longboat Key
Located off the coast of western Florida, Longboat Key is known for its immaculately white sand and crystal-clear emerald waters. Set away from the hustle and bustle of other nearby island towns, such as Anna Maria, Longboat Key presents a tranquil beach environment that attracts visitors from around the world. On one side of the island lies a sparkling bay with deep green water, perfect for swimming or taking in views of the horizon. On the other side of Longboat Key resides a darker bay frequented by local fishermen.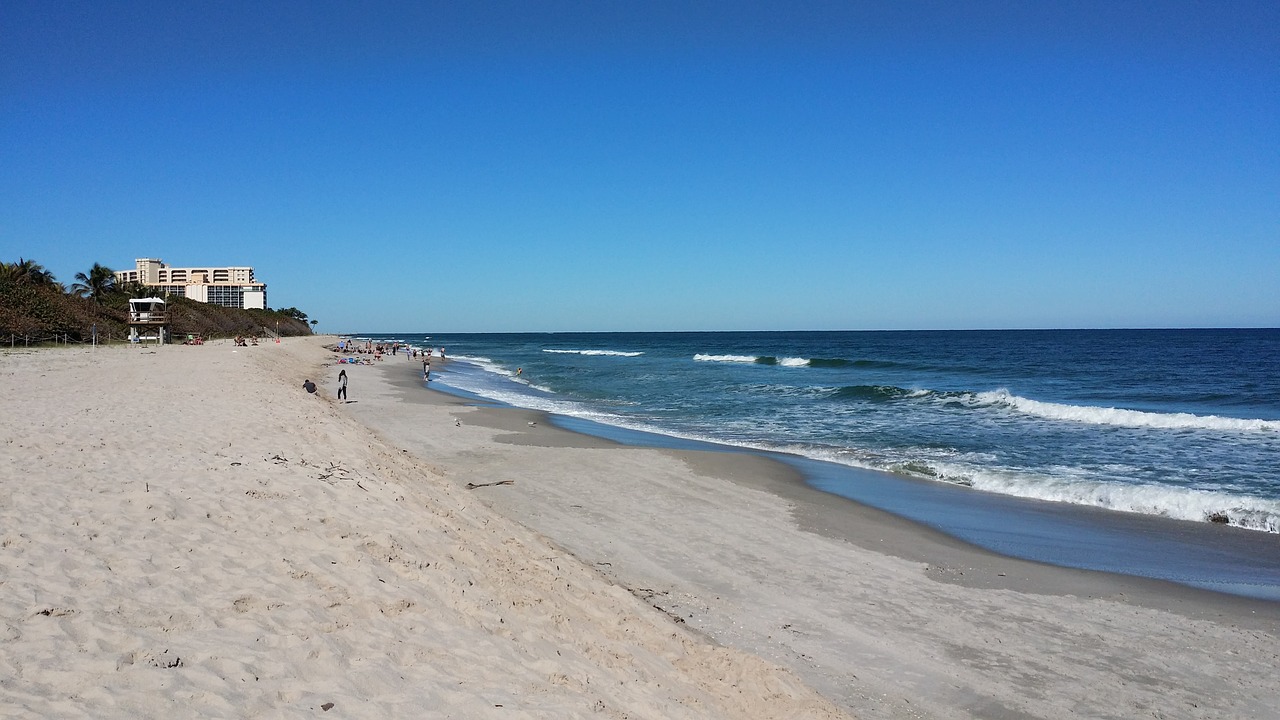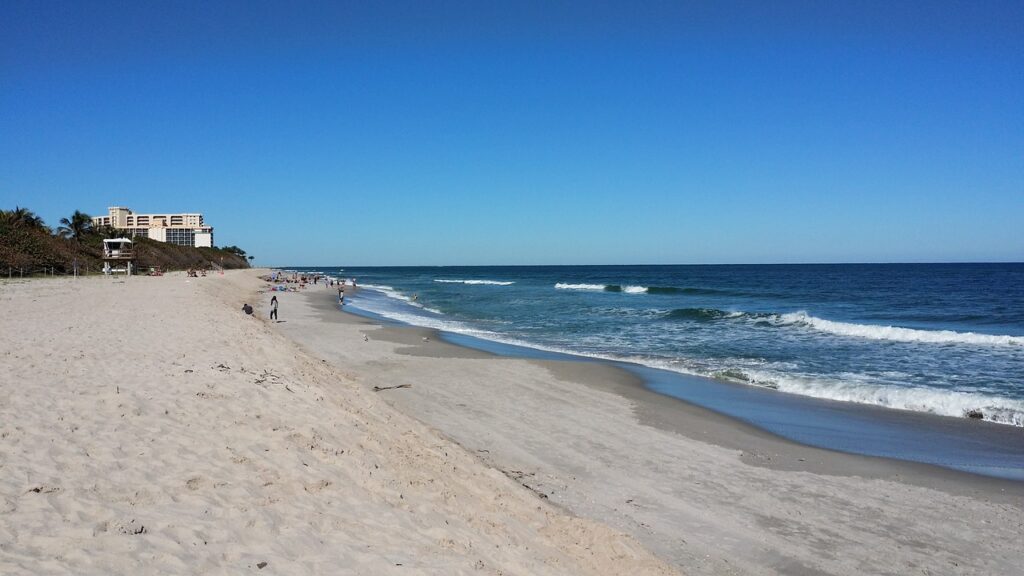 9. Jupiter
Florida is known for its sparklingly clear waters, and Jupiter is no exception. With the gulf stream keeping it warm year-round, Jupiter's waters are perfect for getting active and enjoying a variety of water sports like surfing, paddleboarding and snorkeling! So if you're looking for a great place to enjoy the water, visit beautiful Jupiter in Florida.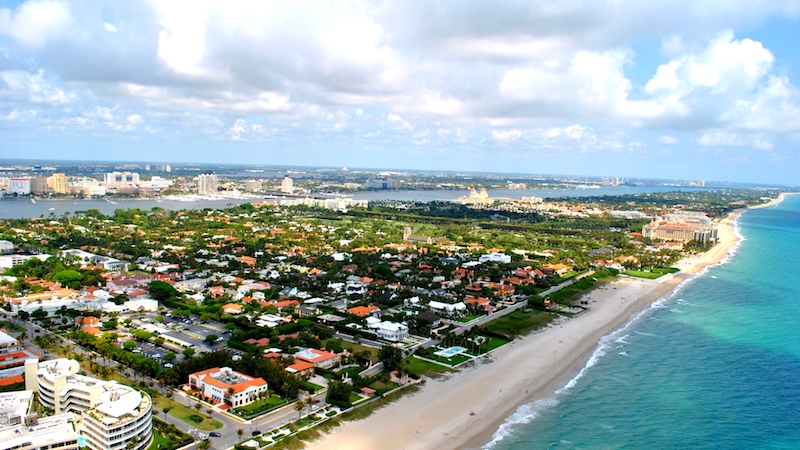 10. Palm Beach
Clearwater Beach, Florida offers the perfect escape for beachgoers looking for a luxurious and relaxing experience! With its crystal clear waters, white sand beaches, and stunning views of the coastline, Clearwater Beach is a must-visit destination for anyone seeking to soak up some sun.
Palm Beach, Florida is known for having some of the clearest water on the east coast. Its public beach access gives visitors the opportunity to enjoy all its natural beauty, including lush palm trees, tropical foliage and picture-perfect white sand beaches. With its idyllic setting and crystal clear waters, Palm Beach is a perfect destination for relaxation and fun!
11. Singer Island
Singer Island's Ocean Reef Park in Florida is a must-visit beach destination for its stunning turquoise water and powdery white sand. Relax and dip your toes in the crystal clear waters or go fishing off the shore of the upscale hotels and resorts that line the shore. There's something for everyone who visits!
12. Delray Beach
Delray Beach, Florida is known for its small-town charm, bustling nightlife scene and delicious cuisine. But what many people come to Delray for is the crystal clear water. Just like its Space Coast neighbors, Delray has incredibly clear aquamarine water that gives locals and tourists a front row seat to the beauty of the ocean.
13. Honorable Mentions
If you're looking for crystal clear water to enjoy in the Sunshine State, there are plenty of beaches in Florida that can provide the best views. From Destin to Clearwater Beach, the Gulf Coast is filled with stunning beach locations that boast beautifully clear waters. However, it's not just these three areas – stunning clear-water beaches can also be found further afield across the Florida coastline.
Florida is well-known for its sun, sand, and crystal clear water. From the Keys to Clearwater Beach, Florida's beaches are renowned for their turquoise waters and stunning views. Whether you choose Key West, Miami, New Smyrna or Clearwater Beach; each has water so crystal clear that it's sure to take your breath away!
14. New Smyrna Beach
If you are looking for crystal clear water and a beach that allows driving up close, then visit New Smyrna in Florida! The fantastic weather and spectacular views will truly astound you with the brilliance of the shoreline and water. Enjoy the feeling of sand beneath your feet and soak in the tranquil waters as your day becomes an unforgettable experience.
Florida's east coast is best known for its crystal clear waters, making it an ideal destination for swimming, sailing and diving. But when in the water, always be extra careful and always look out for sharks. New Smyrna Beach is often nicknamed the 'shark bite capital of the world' due to its high number of shark bites, so if you choose to go into the water, make sure you remember your safety first!
15. Key West
Key West, Florida is home to some of the clearest waters in the United States. Thanks to its location on coral, sediment is kept away from the shores and it's protected from large swells and waves. Smathers Beach is one of the island's most popular destinations because of it's crystal-clear waters and plenty of activities available. Visitors can enjoy swimming, snorkeling, sunbathing and more at this gorgeous beach!
16. Miami
Florida is known for its crystal-clear waters and idyllic beaches. For some of the clearest waters in the Sunshine State, head to one of the areas around Miami. Known for its soft and sugary white sand, the area is home to a variety of marine life which helps keep the waters bright and clear, especially on days with minimal waves.
Conclusion
If you're looking for a beach with crystal clear water, Florida is the place to be. From Caladesi Island to Fort De Soto, some of the clearest waters in the US can be found right here in the Sunshine State. So plan your trip, grab your snorkel and fins, and head out to see why Florida has some of the best beaches around!
From the famous amusement parks to natural springs, Florida has it all. But what really stands out is its crystal clear waterways and beaches! You don't have to travel far to experience a stunning tropical oasis with beautiful blue water – just come to sunny Florida and explore our picturesque coastline. Whether you're looking for a relaxing getaway or an action-packed vacation, Florida offers clear waters perfect for any kind of escapade!
Florida is home to some of the clearest water in the world – from white sand beaches to crystal clear springs, this state has it all. Whether you're looking to go scuba diving, snorkeling, stand-up paddleboarding, or kayaking – you can find a variety of ways to enjoy Florida's beautiful water. Get started with the beaches listed here and handpick your perfect spot for a day on the shore.